The Collegiate University: Educating the Whole Person
The fourth in a series of four white papers. Published May 14, 2009.
---
"But these personal relations in which we have found our happiness supply also the best part of our education. The drill in form and syntax and formula, the quiz and answer, the laboratory's precise observation and careful record, are good, but the touch of elbows which they involve is better; the touch of spirit is best…You will not lose the outlook on life which you have acquired here, your inspirations, or your moral and spiritual alliances, and these be the great things, the determining things in life."

William Louis Poteat
President, Wake Forest College 1905-1927
Youth and Culture
---
"If we can remain true to our traditions, and leverage them creatively in a swiftly changing world, we can envision a kind of wholistic education that equips our students unusually well to find their place in the world."

Nathan O. Hatch
Why I Believe in Wake Forest
---
Introduction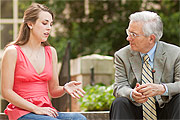 From the first moments of the University's history, Wake Forest has been about education that reaches outside the open doors of its classrooms and into a world that needs women and men who can bring knowledge to bear with maturity, creativity, and integrity. When those doors first opened one hundred seventy-five years ago, the Wake Forest Manual Labor Institute — even named so as to indicate that more than classroom learning was involved — was a unique endeavor in the region: a collegiate school that honored the traditions of its students and that sought to build not only intellect, but also character.
Now, at the threshold of the next one hundred seventy-five years of its history, Wake Forest University and the world it serves have changed drastically. But at Wake Forest, there is a spirit that has been constant through all that change. The boldest move in our strategic plan is our decision to adhere steadfastly to our traditions. Wake Forest is and has always been a deeply personal place, dedicated to community and face-to-face interaction. We embrace that heritage and are committed to sustaining John Henry Newman's sense of an alma mater — a "dear mother" — who knows her children one by one.1
We boldly use the words "character formation" and "vocation" when we speak of a responsibility to educate the whole person-mind, body, and spirit-and to help students find their place in the world. Students come to Wake Forest today with a broader range of traditions and a more eclectic set of dreams than in earlier generations, but our students share a common spirit across the ages as well: they are eager, during their tenure as students and after they graduate, to live and work pro humanitate.
The struggle to shape the whole identity of our students is counter-cultural. Personal connections-critical to character formation-in our society are increasingly rare, or at least increasingly shallow. Too many aspects of life are governed by thin, transactional relationships, focused more on exchanging information than exploring ideas, reflecting on one's own core beliefs, or building friendships. Streams of anonymous transactions dominate professional and personal lives, creating a creeping sense of isolation.
Achieving this overarching goal of educating the whole person requires another move that is counter-cultural in higher education: we must be united in this mission across schools, departments, and programs. Because of our historic commitment to this idea and the advantage of the University's size, we have the opportunity to ensure that every aspect of our educational enterprise is marked by our commitment to educating the whole person.
A Common Thread; a Common Spirit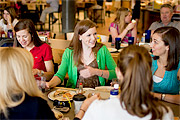 In the context of our strategic planning, a handful of projects have as their principal goal education of the whole person, but this part of our strategy also is connected to almost every other initiative throughout the plan. The concepts that follow have been addressed in other parts of the strategic plan, but their inclusion here signals the way the spirit of service and relationship finds life across our strategic plan.
FACULTY-STUDENT ENGAGEMENT AND CAMPUS SPACE
The foundations of what we aim to achieve here have never been buildings, but rather common commitment and pursuit. Even so, our work requires the right kinds of space to facilitate interaction, cooperation, community-building, and challenging opportunities.
Just as the size of our student body is an advantage in implementing the Wake Forest ideal of personal education, so, too, are the size and beauty of our campus. One can walk from Hearn Plaza to any academic building or residence hall in about five minutes, so that encountering someone from another department, school, or residence hall is a frequent occurrence. Intramural playing fields are easily accessible and heavily used during afternoons and on weekends. The new Starbucks Coffee shop in Z. Smith Reynolds Library and the student-run Campus Grounds coffee house have become very popular gathering places for members of the campus community, as is the "sidewalk cafe" atmosphere outside the Campus Bookstore. The Miller Center's exercise area is in almost constant use, and our arts and cultural events bring together students, faculty, staff, alumni and visitors in various venues around campus.
New construction, as well as renovations of existing campus buildings and spaces, give us the opportunity to strengthen our face-to-face community, and thus contribute to the broader education of our students. While current national economic conditions allow for only very limited projects, our long-term campus master plan directly supports the strategic plan initiatives.
Four current projects are especially relevant to our aim of educating the whole person.
The construction of a new first-year student residence hall will help us retain a healthy proportion of undergraduate students living on campus in keeping with the University's commitment to a residential community and the developmental model of Student Life.
The new undergraduate admissions building, recently approved by the Board of Trustees, is essential to the functioning of the Admissions Office, which is experiencing a rapid and substantial increase in the number of visitors. Meeting that need is, of course, the primary purpose of the new building; but an added benefit is that its atrium, auditorium, and terraces offer convenient new campus venues for evening and weekend cultural events when it is not in use by the Admissions Office, creating another gathering place where students can enrich their education with co-curricular activities and informal conversations with their peers and professors.
The renovation of the Food Court and Shorty's in Benson University Center, now underway, will be an improved and inviting environment for students, faculty, and staff to gather for informal discussions over meals, adding to our inventory of activities and venues that support a strong campus community.
Conversion of the former Information Systems building to become part of the Wake Forest Schools of Business adds more space not only for classrooms and offices but also for the faculty's mentoring of students and for faculty members of the undergraduate and graduate business programs to interact and collaborate more frequently.
Future projects that are planned but not yet funded include a recreation/wellness center, long sought by students because of space limitations of current facilities, an interdisciplinary academic building, and another suite-style residence hall for upperclass students. Both of these new buildings would contribute immensely to enhancing the spirit of community on campus.
Perhaps most importantly, the University has committed to seek LEED certification for new construction and some renovation projects. LEED, the standard measure of environmental consciousness and sustainability in design and construction industries, not only ensures limited levels of environmental impact, but also more pleasant human experiences in our buildings by emphasizing natural light, clean air, and other key attributes.
CREATING OPPORTUNITY FOR CHARACTER AND SERVICE
Education of the whole person necessarily includes exposure to new ideas, cultures, and situations. This creates two important priorities for Wake Forest: the preservation of opportunities for our traditional constituencies in North Carolina and the Southeast, and the reinforcement and creation of opportunities for students from diverse economic and cultural backgrounds. The character of the University depends on strength in both areas, and the populations from which those students come depend on financial aid to afford a Wake Forest education. Our efforts to cap loans for students from families that earn less than $40,000 annually and to raise more support for need-based financial aid are not only for the benefit of the students that receive the aid, but also for the benefit of the students who will learn next to them in our classrooms, play next to them on our fields, and live next to them in our dorms.
The elimination of the SAT requirement, also more fully discussed in the second white paper in this series, is an example of Wake Forest's reaching to the traditions of its past to be a maverick in the field of higher education, eschewing the standards of others and setting a new trend among our peers to understand more fully each individual applicant. Knowing applicants as individuals is the right thing to do, but it is also a crucial step for this University, which is committed to work with each of its students as individuals rather than simply applying a formulaic education to everyone who walks through the doors.
LEARNING ACROSS BOUNDARIES
New academic programs suggested by our strategic plan, several of which are discussed in the third white paper in this series-from joint-degree programs to the Teaching and Learning Center – honor the best opportunities to shape students rather than rigidly adhering to the traditional lines between disciplines and schools.
Learning happens most effectively when it crosses not only horizontally through disciplinary areas, but also vertically through ages and stations. For this reason, mentoring is another important feature of new campus initiatives. Our plan calls for the establishment of a nationally-recognized mentoring program that builds on our longstanding commitment to personalized education and opportunities, giving every student the chance to interact with a trusted advisor throughout the Wake Forest experience.
Finally, learning at Wake Forest crosses geographic boundaries. With two-thirds of our undergraduates earning credit for international study and still more students participating in service-learning trips, experience in learning and living across cultures will increasingly be a hallmark of a Wake Forest education.
Fully Preparing Students for Life and Career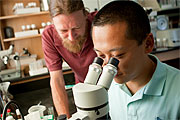 In a challenging economy, the resources and focus necessary for students to find jobs become so substantial that there is a very real risk of a job being perceived as the sole end of students' education. There is no doubt that equipping graduates with the knowledge and skills to build careers is a fundamental part of our purpose. We teach students to think critically and analytically so that they can contribute to and adapt to future career challenges.
But educating the whole person means a commitment to more than job preparation or help in the career search. It means that while they are at Wake Forest, students should discover where their gifts and talents lie, what fires their passion, and how they can contribute to society at every level, locally to globally.
In general, universities today are less prepared than in the past to help students explore these issues. In seeking to help students define a moral or ethical purpose in their lives or even think through their own values, we buck a trend among premier institutions. William Chace, former President of Emory University and Wesleyan University, asserts that America's best colleges and universities are no longer committed to the kind of moral development that once produced an informed and responsible citizenry.2
Fortunately, Wake Forest has a rich tradition of exploring values along with the arts and sciences and has mostly avoided the kind of diminishment that Chace describes. We have challenged students to explore questions deeply and to think about their own responsibility for making the world better. Our steadfast belief in nurturing character formation in students is perhaps more important and needed today than ever before.
To ensure that we support and enhance this tradition, we hope to establish the Center for Vocation and the Common Good to offer our students greater guidance in how to integrate their education and skills with their beliefs and commitments. Our aim is to form leaders who will approach work with a sense of vocation, measuring their own gifts and passions and applying them in ways that place a high priority on human flourishing and the common good. The Center, which could create a powerful signature for Wake Forest, would engage scholars with a passion for working with students and faculty in this realm. It would be important that we not simply relegate vocational and values exploration entirely to the Center; instead, it would be a resource and an engine to enable such discussions throughout our schools and departments.
To provide further career mentoring as well as actual work experience, we have begun the Wake Forest Fellows program. During their senior year, students who have a career interest in higher education or non-profits apply for University-funded internships in administrative departments, including the President's Office. Once selected and graduated, they become one-year employees of Wake Forest with specific responsibilities in the departments by which they are employed. In addition to the learning experience and mentoring that comes with the position, the program includes structured observation/reflection/feedback opportunities to help each of the six Fellows grow personally and professionally.
To ensure that we are meeting student and community interests in spiritual and religious matters, we hope to implement a Chaplain Fellows Program. The fellows would be divinity or rabbinical school graduates who seek experience in university chaplaincy. During their short-term appointment, they would provide spiritual mentoring of students through relationship-building as well as programming, and serve as a resource for students seeking connections to the Chaplain's Office, Campus Ministry, and other campus religious groups. Their presence would no doubt expand our outreach to students, providing another means to introspection and self-understanding. As is the case with all religious programs and services on campus, Wake Forest offers but does not mandate.
Conclusion
When the Reynolda Campus was designed in the mid-twentieth century, architects tried to echo the design of the old campus so that Wake Forest would continue to be a familiar place to its alumni and friends. The campus has grown significantly since that time, adding new spaces that are inspired, each in their own ways, by the original design. So, too, new programs, schools, and initiatives are inspired by the spirit of the University that was founded on a farm in Wake County to honor the traditions of its students and build up intellect and character.
The world emerging in the twenty-first century is radically different from that of the twentieth-not to mention the nineteenth-century. But this is an age made for Wake Forest. Success in a technologically-driven global economy demands the brightest minds with the best training. Sustaining success in personal and professional lives demands women and men with ethical understanding and moral courage. It is in the enlightened, conscientious meeting of these two needs that Wake Forest is uniquely positioned to lead in higher education.
---
1 John Henry Newman, The Idea of a University Defined and Illustrated (Longmans, Green, 1899) 144-145.
2 William Chace, 100 Semesters: My Adventures as a Student, Professor, and University President, and What I Learned Along the Way (Princeton University Press, 2006), 4, 55.