The Collegiate University: Creating Opportunity
The second in a series of four white papers. Published Jan. 16, 2009.
---
"I'm proud to say that I have made the most of my time at Wake Forest and I've had the opportunity to do some incredible things. I've studied abroad at the University of Cambridge, I've conducted research on a Caribbean Island, I've explored five different countries, and even learned to speak another language along the way. All of these experiences have taught me important life lessons and have prepared me well to pursue a master's degree in public policy next year. I truly appreciate how Wake Forest has cultivated my desire to dedicate my life to serving others …"

Evan Raleigh ('09), Gordon Scholar
---
"The sense that I got about this place on my first visit has proven to be even more true than I could ever have imagined. The summer after my freshman year I got to take that long-awaited trip to Washington DC and to work in the Capitol Building—the same place I had dreamed of working on those Sunday mornings in Alabama. This past summer I did research in Memphis, Tennessee—in the lab of none other than the intellectual hero of my childhood, Dr. Peter Doherty. I tell you this because, in this room, I'm not the exception, but the rule. All of us here today have had opportunities which otherwise would have been unattainable because of our association with this University, and it is your generosity that made this association possible."

Carson Moseley ('09), Wake Forest Heritage Scholar
---
"Wake Forest has spent most of its history as a beacon for people of humble backgrounds. My greatest concern…is that we will not have the financial resources needed to enroll students who want to be here but whose families cannot afford it."

Ed Wilson ('43), Provost Emeritus
---
Introduction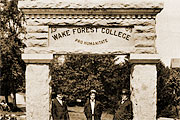 Few colleges and universities have two distinct historical eras, as Wake Forest does. Our first chapter was written in the town of Wake Forest, North Carolina, from 1834 through mid-1956; and the second, still in progress, began in 1956 in Winston-Salem. Many themes and images link our early history to today's University: small classes and devoted professors; a campus collegiality that reflects the small-town culture of our first home; old Virginia brick and magnolias; and a passion for the gold and black in athletic competition.
But one theme that uniquely connects our history, present, and future is the conviction that talent knows no economic, geographic or ethnic boundaries, and that bright young people who are eager to succeed and to help others deserve to be offered opportunity at Wake Forest, regardless of their families' financial capacities.
In earlier times, when Wake Forest was primarily a college in a largely rural state, offering opportunity to first-generation college students was a frequent and often informal process. Many alumni from the "old" campus have told stories of arriving in the town of Wake Forest—some by train, others even walking or hitch-hiking—with little money and no promise of admission. To a person, each of these alumni remember fondly the faculty member or dean or bursar who recognized a potential achiever and, acting in the hope of transforming a young life, provided the financial assistance needed for that student to enroll.
From this cherished value has grown a University culture that Provost Emeritus Edwin Wilson once described as "…democratic, with a lower case d." Wake Forest has consciously avoided creating an elitist or class-conscious culture, focusing instead on recruiting students whose intellectual abilities, talents, personal interests, and integrity are congruent with our high academic expectations and our motto, Pro Humanitate.
Today, our ability to continue offering opportunity to these promising young people is in jeopardy. One of our most urgent and compelling priorities is to reduce and ultimately remove this risk. It is important to understand the interwoven factors that have created this circumstance.
History Meets a Changing Higher Education Landscape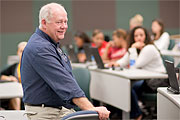 The most striking factor is the environment in which Wake Forest competes for students today. Over the past thirty years, our growing academic strength and our traditional emphasis on teaching and personal attention have propelled the University into the top ranks of American higher education. Today, Wake Forest competes with the best universities in the nation for the best students in the nation, whereas in the past we had competed with regional liberal arts colleges, often in the South. Because of our rigorous academic standards, our pool of prospective students is relatively small, intensifying our recruitment efforts. Because we are seeking students who are not only intelligent but also interested in improving the world and contributing to a better society, the pool of prospective students tightens even further.
In addition, well before the recent fiscal downturn, America's economic and cultural environment has been a major factor contributing to this risk. Access to a college education has become ultra-competitive, and parents are understandably eager to give their children the best preparation to enter the most highly regarded colleges and universities. Families who can afford the best primary and secondary schools, tutoring, SAT preparation courses, and other academic amenities naturally give these advantages to their children. Students from families of modest means, who cannot afford these educational enhancements, often present college entrance credentials that are less competitive, even though their intellects and talents equal or exceed those of more privileged students. And too frequently, those of lesser economic means who do present strong academic credentials are reluctant to apply to private colleges and universities because of the cost of tuition would seemingly be prohibitive to their families.
A second factor contributing to this risk is specific to Wake Forest. Our endowment is significantly lower than those schools with which we compete for students, a circumstance that long predates the current economic climate. The reasons for it are evident in our institutional history. Wake Forest was established and led by people of vision who were themselves of modest means, many of them ministers and teachers. There was no founding major benefactor or endowment at Wake Forest. Assembling the resources to keep the school viable was a major challenge for much of the early history of the College. Later, during the campus relocation to Winston-Salem in the 1950s, all available resources were put into bricks and mortar. Thus, in the post World War II era of growing national prosperity, other institutions were watching their endowments snowball, while Wake Forest was completing its new campus. There is no doubt that the move to Winston-Salem remains one of the greatest events in the University's history; but at the same time, it required us to invest in the campus infrastructure rather than in the endowment during a critical period.
One of Wake Forest's great untold stories is the wise stewardship of our endowment, especially over the past five decades, enabling us to flourish among far larger and wealthier colleges and universities. It would be easy to conclude, therefore, that because Wake Forest has successfully done more with less from the time of its founding, we can simply continue this practice and remain competitive for the best students and faculty. We will, of course, continue to be conscientious stewards of our resources; but the competitive milieu of higher education is changing rapidly, as are the expectations of students and their families. Maintaining the status quo in resources will ensure that we will not be able to offer opportunity to our historic constituencies. Our three major sources of revenue—endowment income, tuition, and gifts—are being stretched precariously; and we know that adding much-needed educational programs or enhancing our infrastructure to meet today's teaching and research needs will soon overpower our resources.
Adding another layer of complexity to this circumstance is the well-publicized, growing gap between the wealthiest Americans and the poorest. It means that private schools, especially, must offer increasingly robust financial aid programs to maintain economic diversity within their student populations. A number of our peer institutions have already eliminated loans from financial aid packages, assisting students entirely with grants and eliminating the post-graduate debt burden that often hampers career progress.
Why does economic/cultural diversity matter to Wake Foresters? Many excellent private universities, including ours, could fill their classes with full-paying students year after year. If Wake Forest did that, the character of the University would change radically, and we would forfeit entirely our most deeply held institutional values. Our student population would be homogenous. Diversity of background and experience enhances every aspect of campus life, including not only the experience of undergraduates, but also that of our graduate and professional school students. The most enriching education is one in which students bring differing perspectives, experiences, opinions, and ideas to discussions in the classroom and to their relationships outside the classroom. Applicants and entering students at Wake Forest already recognize this critical component of their education and expect us to offer them a learning environment that prepares them for life in the twenty-first century. To secure our historic commitment to students of modest economic means, or to first-generation college students, or to those who need only a door opened, Wake Forest must make unprecedented improvements to its financial aid funds. Incremental changes cannot meet today's challenges. We must boldly seek transformational gifts to financial aid endowment and annual financial aid support.
Offering Opportunity and Securing Our Niche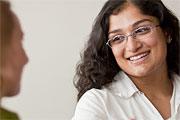 Wake Forest is taking significant action to protect and extend our ability to offer opportunity to students who want to enroll here and whose talents would make important contributions to academic and campus life, but whose own resources make it difficult if not impossible to attend.
In the spring of 2008, we eliminated one barrier to recruiting more talented and academically able students by making the SAT optional for admission to Wake Forest. Our reasons for taking this important step have been shared in previous communications, but the most important is the fact that recent research shows the SAT is not a good predictor of college success. High school grades and success in Advanced Placement courses are the best indicators of future academic success. We also recognize that in many instances, superior students who are not good standardized test takers are denied admission. In addition to the SAT policy change, we are also offering personal interviews to all undergraduate applicants, underscoring the face-to-face aspect of the Wake Forest community.
Through careful reallocation of existing resources, we also capped loans in the financial aid packages of students whose families earn less than $40,000 annually. The cap means that these students will graduate with no more than $16,000 of debt.
We have undertaken a massive effort to build our financial aid endowment. In the first phase of this effort—Open Doors, Open Minds–we will raise $35 million over the next two years for need-based undergraduate aid. This increase will allow us to institute a similar loan cap for students from families whose annual income is less than $60,000 annually. In subsequent phases, we will set goals that enable us to transform Wake Forest's financial aid program so that it will be a great asset in recruiting the best students from any economic background.
Similar initiatives to replace loans with grants are envisioned for our business, law, and divinity students. Because these students face ever-rising debt burdens, we want to ensure that their early post-graduate careers—so vital to long-term success—are not obstructed by the pressure of paying back enormous loans.
We will also implement creative new efforts to increase annual support for financial aid. This "bridge fund" will expand the number of donors who can support this vitally important initiative, because it allows those who cannot give at the scholarship endowment minimum threshold to participate in meeting a critical need. This year, for the first time, donors to the annual fund can designate their gifts to financial aid. We will identify other ways to encourage operating support for this critical need across all Reynolda Campus schools.
Conclusion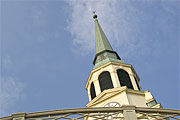 No other characteristic of Wake Forest defines the institution more precisely than its cherished principle of extending opportunity to those students who have the most to offer and to gain from this University, without regard to their economic or cultural backgrounds. This noble tradition has given its alumni advantage as they enter the next phase of their lives, because they have learned to be open to new ideas, analyze their worthiness, and take enlightened action when it is needed. They are able to interact with people very different from themselves; new ideas inspire them. More than ever in these difficult times, our society longs for leaders who can find common ground in solving challenging problems. Wake Forest has a long, distinguished history of educating men and women who can step confidently into leadership roles; but that tradition will evaporate without a rich mix of individuals whose ideas and perspectives bring many resources to learning and to problem solving.
Our urgent challenge in this era is to protect and extend the University's capacity to offer opportunity, specifically in the form of massive new financial aid. This challenge has highest priority in our strategic plan.
The third white paper on Wake Forest's strategic plan focuses on the opportunity to reinforce the inherent connections among the liberal arts college and the graduate and professional schools.