The Collegiate University: Building Exceptional Faculty-Student Engagement
The first in a series of four white papers. Published Dec. 8, 2008.
---
"Being a student here means that you will be a member of a close-knit community with welcoming undergraduates and faculty. It means that a professor from your first year will still recognize you as a junior."

Kate Rogers ('09)
---
"…there are many excellent colleges and universities poised to prepare you for whatever life brings, but I feel that Wake Forest stands out from the rest. The small class sizes allow you to interact with professors in a way that stimulates intellectual growth…"

Chris Jackson ('08)
---
"Wake Forest puts education of the student first; to me, this is the primary mission of higher education."

Jacquelyn Fetrow, Reynolds Professor of Computational Biophysics
Dean, Wake Forest College
---
Long one of Wake Forest's defining features, the interaction between and among superb professors and bright, enthusiastic students is the key to real learning and discovery. This principle has led the University to be deliberate in keeping class sizes small. Our faculty members' engagement with students is not limited to classroom, studio, stage, or laboratory; Wake Forest students are challenged not only by course content, but are also mentored and encouraged to think critically in the intimate learning environment of the campus community.
In an increasingly impersonal world, our graduates have the great benefit of having frequently defended their ideas and opinions before their peers and professors, face to face, and of having presented papers at academic conferences. Many have worked side-by-side with faculty and staff on service projects in the local community and around the world.
Our Commitment to Teacher-Scholars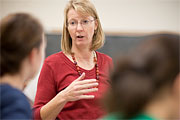 The impact of professors on students' intellectual growth and character formation is striking. In planning to sustain and nurture this strong tradition and academic advantage, we recognize the centrality of recruiting and retaining faculty members who have the most to offer to the Wake Forest environment. For some years, we have accurately described them as teacher-scholars. They come to us from the best graduate schools and the most respected university departments in their disciplines. They are excited about learning and discovery, enriching the classroom experience with new knowledge that they and their peers at other institutions are generating. They view interaction with undergraduate, graduate, and professional school students as opportunity. They appreciate Wake Forest's approach to education, and they successfully balance the demands of insightful teaching and rigorous scholarship.
Our dual expectation of faculty members is unusual, even countercultural, in higher education. We ask the best faculty members in the nation to approach their careers differently from their peers at other institutions. Many universities recruit top scholars but require little attention to teaching, especially at the undergraduate level. To ensure their success here, it will be important to offer strong professional development opportunities to those outstanding academics who choose Wake Forest.
Thus, Wake Forest can offer a richer academic experience than many of the institutions with which we compete for students; but our ability to hold onto and strengthen this asset is tied directly to our ability to recruit and retain exceptional faculty members. In recent years, University-initiated cost-saving measures have helped us make incremental progress in raising faculty salaries; yet other institutions with which we compete for faculty have, in many cases, leapt ahead because of transformational gifts for faculty support. A critically important strategy for Wake Forest, therefore, is to invest in superior faculty members who appreciate and endorse our philosophy of personal education, rewarding those who have dedicated themselves to our model and recruiting a new wave of legendary teacher-scholars. Investment in the best people yields incomparable results. This investment comprises the following strategic initiatives.
Establish new endowed chairs across the University to retain our own top teacher-scholars and to recruit outstanding new faculty in a seriously competitive national market.
Institute competitive salaries through a multi-year plan for reaching parity within our consistently-defined peer group.
Provide for ongoing faculty development through the Teaching and Learning Center. (More information about the center is available at www.wfu.edu/tlc.) Create a first-rate faculty development program to support faculty in their roles as teacher-scholars and as academic leaders on campus and in their professions throughout their careers.
Encourage and reward excellence through increased travel funds for faculty to attend national and international scholarly conferences.
Increase national and international visibility for faculty achievements and expertise, through traditional and electronic media, participation in professional organizations, and other appropriate opportunities.
Establish a campus-wide tenure and promotion practice that is fair, transparent, and reflects the highest standards of the teacher-scholar ideal.
Strengthen the resources of the Z. Smith Reynolds Library through an increase in its acquisition and serials budget and a plan to address its critical space needs.
Enhance recruitment and retention by developing stronger benefits, including better parental and maternity leave programs; and providing formal relocation and spousal employment assistance
Establish resources for diversifying our faculty in ways that meet students' expectations as well as the University's expectations and interests.
Our Commitment to Students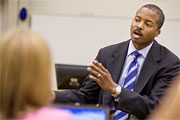 The other, equally critical component of the academic equation is our student body; and our strategy for intensifying student engagement comprises both tradition and change.
We have long been committed to balancing rigorous standards of performance with deep appreciation of the individual. In recruiting our future students, we will continue to hold high expectations for their academic qualifications and for their interest in service to society, the enduring pair of characteristics that are longstanding Wake Forest distinctives. As more students from a wider range of backgrounds become interested in Wake Forest, we must be able to evaluate more individually a prospective student's potential, and we must be ever more deliberate in identifying and recruiting those who most want to participate in the kind of educational environment that we value.
At the same time, we must also respond to the growing demand from prospective and enrolling students for greater representation of different viewpoints and experience-cultural and economic-in the student body and the faculty. These young people recognize that they will live and work in a diverse world, very different from their parents' generation, and they expect that their undergraduate and professional educations will prepare them for it. More than ever, we are obligated to teach students to draw from other cultures and other perspectives as we teach them to think critically and to be leaders. Our definition of this effort includes economic and geographic diversity, gender and ethnicity, and a wide range of special skills and talents.
In initiating these steps, we must ensure that this University retains its unique personality as a welcoming, nurturing community, just as it did during the period when Wake Forest changed from a regional to national university. We want our students from all backgrounds, with varied interests and talents, to claim Wake Forest as beloved alma mater.
Along with the actions already cited to strengthen our faculty, the strategic initiatives that follow will enable Wake Forest to lead higher education in the strength of student engagement.
Expand and update admissions recruitment. Improve, across all media and the campus visit, the presentation of our academic programs to prospective students.
Increase the attention to individual applicants in the recruitment process; broaden our geographic reach to include international students; and grow diversity initiatives. The decision to drop the S.A.T. as a required entry credential and the related new practice of interviewing most applicants reflects this initiative, as does the addition this year of an admissions staff member dedicated to international recruitment.
Establish nationally-recognized mentoring programs, ensuring that every Wake Forest student has the opportunity for a mentored academic experience, such as participating in an international program, public engagement project, or research collaboration with a faculty member. Engage staff and alumni in mentoring students, so that it becomes a key component in the Wake Forest experience. This fall, for example, the School of Law initiated an alumni mentoring program for their first-year students. We will continue phasing in this program so that all law students have an alumni mentor.
Enhance professional development and mentoring for the top academically talented students in their pursuit of the Rhodes, Marshall, Gates, and other highly selective national and international post-graduate fellowships and other post-graduate academic opportunities.
Enhance academic advising in all schools. We will improve advising in all schools with particular attention to lower division advising in the College.
Enhance support of our Undergraduate Research Center, established earlier this year as part of our strategic plan, so that all students committed to pursuing high-end academic research receive committed faculty support and resources to nurture their intellectual growth. More information about the center can be found at www.wfu.edu/ureca.
Recruit more students who bring different experiences and perspectives and meet other academic objectives through increasing undergraduate enrollment by a total of 500 students over the next five years, retaining a very competitive faculty/student ratio of 1:11 Adding students allows us to bring more diversity without "replacing" our traditional constituencies.
Create a campus climate that welcomes students from all backgrounds. Institute more deliberate programs, including the enhancement of physical spaces, to foster greater participation in the campus community. Enhance the Office of Multicultural Affairs to better serve students.
Establish broader global and cultural awareness through curricular development across all schools, including exploration of new majors and enhancement of existing programs. For example, a recent generous gift from an alumnus/trustee will enable Wake Forest to establish a residential study program in Nicaragua, growing from a project begun in 2006 by a group of our MBA students. We have also added an African Studies minor to the College curriculum. These and other initiatives will offer all students many new opportunities to enrich their understanding of different cultures.
Our Commitment to Strengthen Faculty-Student Engagement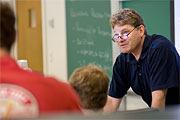 During the strategic planning process, a parallel campus master plan study was also in development to guide us in identifying the appropriate physical infrastructure to support these initiatives. To ensure optimal faculty-student engagement, we must provide excellent physical facilities for recruitment, student housing, teaching, and research, as suggested in the following descriptions.
Build a new undergraduate admissions center to accommodate the increasing number of visitors. Plan the building to be welcoming and to include space that can be used for other purposes when it is not in use by the Admissions Office (lectures, receptions and other types of events). Starling Hall-formerly the President's House — has been renovated several times, but its configuration is still inadequate for the rapid increase in admissions visitors. Last month, we had to move a mobile unit behind Starling Hall to provide additional interview space. The campus master plan locates the new admissions center near the current Undergraduate Admissions Office.
Add residence halls to accommodate the approved increase in undergraduates over the next five years. With the renovation of the former Faculty Apartments, we have begun to add the space needed for the increased number of students. We anticipate that two new residence halls will be needed within the next four years to meet student housing demand: one to house first-year students and the other for upperclassmen. Experience tells us that apartment-style residence halls will be very popular and will generate more interest among juniors and seniors in living on campus.
Renovate and add amenities to areas of the Z. Smith Reynolds Library to create more inviting spaces for students and faculty to make maximum use of library resources. Last summer's addition of a Starbucks Café and the addition of a graduate student lounge have been popular and welcome additions. We also need to renovate the Teaching and Learning Center and add a faculty lounge.
Many of the strategic initiatives to build faculty-student engagement will be implemented by departments and schools in various ways too numerous to detail in this paper. The provost, working with deans, department chairs, and financial officers will present these initiatives to the campus as they are considered.
The second white paper on Wake Forest's strategic plan focuses on a unique characteristic of the collegiate university: sustaining a tradition of opening new doors for educational opportunity.