Wake Forest: The Collegiate University
Introduction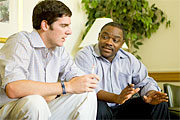 An interested faculty member who takes extra time to engage an inquisitive or uncertain student; a seminar that focuses on the real estate crisis, not only from the business context but also from interdisciplinary approaches in ethics, politics, sociology, and the law; an alumna prepared to work as an experienced citizen in the global economy and also lead her organization's community volunteer efforts; an elated high school senior who will become the first in his family to attend college-the college that is his dream-thanks to a generous scholarship; a graduate student in biology whose collaborative research with a medical school professor is presented at a major conference: these potential scenarios from Wake Forest's future grow from longstanding values passionately held by the University's students, alumni, faculty, staff, and parents; and they reflect the priorities of Wake Forest University's new strategic plan.
In shaping this plan, we recognize that our society, indeed our world, hungers for leaders who are superbly educated; who care deeply about the complex international issues that are linked in unprecedented networks; and who count service to others as a life principle. As was true in every climactic moment of the past, leadership will emerge from our institutions of higher learning, yet few institutions are capable of responding fully to these extraordinary societal needs. Many universities have created silos of talented people who cannot work together. Many offer students good training but not education, and many have faculty whose time is focused on ever-narrowing fields of study.
And then there is Wake Forest.
That Wake Forest is a unique institution is not news to those who know it best. For years, its people have flourished in the midst of dualities, holding in creative tension that which is often separated. We have integrated the intimacy of a college with the academic vitality of a research university. We have adhered to the teacher-scholar ideal in recruiting faculty. We have been shaped by a culture that is distinctly North Carolinian; and at the same time, we have emerged as a national university with international networks. A rich religious heritage is present within a climate of academic freedom and an unfettered search for truth. The size of the university ensures personal attention to individuals while fostering the bold ambitions of a major institution. Our model is rare in higher education.
---
What is a collegiate university?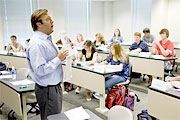 From this compelling academic setting Wake Forest has emerged as the leading collegiate university: a place where essential questions and contemporary issues are studied and debated in an environment of intellectual freedom and humane concern, within and across all disciplines; and a place where undergraduate liberal arts curricula and graduate and professional school programs are mutually enriched by collaboration and mentoring. Our size gives us the ability to create rich interdisciplinary programs: we can produce great educational outcomes precisely because we are small enough to know one another, to forge strong links among our schools and departments, creating academic benefits for students and faculty that are challenging for larger, less personal universities to match. Professors who are teachers, scholars, and mentors lead their students to engage in a community of learning. Intellectual life is balanced by diverse programs that encourage service to others and opportunities for students to participate in a variety of social and civic activities, as well as intercollegiate athletics.
Our motto, Pro Humanitate, guides the University's intellectual and co-curricular pursuits. The collegiate university that Wake Forest can be will grow from these deeply-held values. In creating a new strategic plan, we have engaged students, faculty, staff, alumni, and parents in acquiring a better understanding of ourselves, our distinct place in the broad mosaic of American higher education, and where we want to go in a competitive and swiftly-changing academic landscape. The world is not standing still, and neither will Wake Forest. We will set our own course, refusing inertia, on the one hand, and the undertow of trendiness on the other.
As it has for decades, Wake Forest will stand apart. Rich in the traditions of rigorous education across all its schools, nimble in its pursuits, and inspiring in its impact, Wake Forest is a model for a knowledge-driven society where a community spirit enriches intellectual endeavors.
---
Overarching priorities of our collegiate university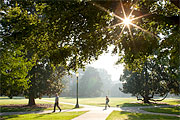 The components of our new strategic plan are linked to four overarching priorities that emerged as we studied Wake Forest's strengths and challenges. These priorities are critical to the vitality of each constituent school and department as well as to the University as an entity.
The collegiate university builds exceptional faculty student engagement.
The collegiate university sustains a tradition of opening new doors for educational opportunity.
The collegiate university reinforces the connections between the liberal arts and the professions.
The collegiate university educates the whole person-mind, body and spirit-and helps students find their place in the world.
---
Implementing the Strategic Plan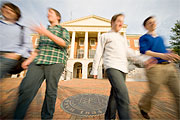 A strategic plan is a guide, more comparable to a roadmap with many intersections and choices of route than to a linear pathway. We will implement our plan with many of the following components. Some initiatives will be implemented immediately, while others may be reworked as circumstances change or better ideas emerge. Some will be implemented only as new funding becomes available. All will support the overarching priorities as described in the following paragraphs.
Faculty-Student Engagement
Most students fall in love with learning through the personal connection that they develop with faculty. Because of the nature of higher education today, not all prospective professors are as committed to teaching as they are to scholarship. Their interests lie primarily in research. Yet we know that the blend of great teaching, enthusiastic mentoring, and excellent scholarship in a faculty member has the most positive impact on our students. New ideas generated by scholarly and creative work enrich not only classroom, studio, and laboratory, but our larger society, as well. Great teacher-scholars regularly connect their disciplines to the needs and interests of those beyond the boundaries of campus.
To compete for and retain the talented individuals who can balance and apply these considerable skills, we must establish new chairs and professorships, offer the most competitive compensation packages, enhance library and technology resources, and provide comprehensive faculty development.
Never in our history has our ability to help deserving students been more critical. We live in challenging times, when far more educational options exist for these bright young people. Universities with which we share qualified applicants-our "competitors"-are taking extraordinary steps to recruit superb students, recognizing the same gifts we see in those bright, young minds. To ensure that Wake Forest remains a place where we make the extra effort to encourage gifted young people of average or modest means to fulfill their ambitions, we must boldly build financial aid endowment. To remain competitive for the best students, we must increase the proportion of grants and decrease the proportion of loans in financial aid awards. Burdening young alumni with excessive loans can significantly delay or, in some cases, prevent the realization of their aspirations.
Our history is replete with stories of alumni/ae whose lives were transformed because a scholarship enabled them to attend Wake Forest. We must extend this opportunity to future students. No future leader should ever have to give up the dream of attending Wake Forest because of inadequate scholarship assistance. In each generation, there will be new groups identified as beneficiaries of this important Wake Forest principle.
Liberal Arts and the Professions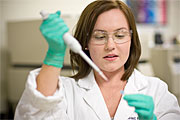 Given the scale of our campus community, the talents of our faculty, and the increasingly interdisciplinary nature of learning, Wake Forest is well positioned to build more productive connections between the arts and sciences and the professional schools in law, medicine, business and divinity. To reinforce these links, we will create interdisciplinary institutes and centers to link faculty working in areas of natural academic connections, so that they can enhance their own scholarship and teach students to not only think more broadly and deeply about complex issues, but also to engage in actual research activities that seek to answer these questions.
To help students integrate their academic and career interests and deepen our commitment to educating the whole person, we will develop a nationally-recognized mentoring program, drawing on the talents of faculty, staff, and committed alumni/ae. We will also build strong professional networks for our students, enhancing our service to them in regard to vocational discernment and career development.
Educating the Whole Person
Students' interest in people and cultures different from their own has risen dramatically over the last decade, paralleling rapid changes in our world. There are many ways to ensure that our future alumni/ae are prepared to live, work, and lead in a world that has grown smaller yet more diverse. Essential to the academic side of this value are robust programs of international study-with stronger preparation, immersion, and reflection. Increased diversity on our campus will enrich the fabric of our own community and offer students even more opportunity to learn from one another-an opportunity that incoming students now eagerly seek.
We will also be more consistent and focused in our efforts to foster public engagement, encouraging faculty and students to bring their knowledge and skills to bear on pressing contemporary problems. Wake Forest will be a crossroads of public understanding and involvement. Having a long history of training leaders of public service in many walks of life, the University must be deliberate in cultivating stronger relationships with local and regional neighbors and in offering students new and more purposeful ways to be of service to others and to find their place in the world. Finally, we will continue our tradition of modeling excellence in intercollegiate athletics, a facet of Wake Forest life that creates opportunities for learning outside of the classroom and builds community in a unique way.
---
Creating a supportive infrastructure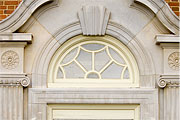 Realizing the benefits of these four priorities will require a supportive infrastructure of talented administrators and excellent facilities.
The Wake Forest spirit has always been nurtured not only by exceptional faculty and students, but also by a cadre of dedicated administrators and support staff. To be successful in building the collegiate university, we must recruit and empower the right kind of administrators and staff — those who "hear the music" of this special place but are also conversant with higher education nationally. We must build leadership strength in the wide range of professionals required in the modern university, from athletics to finance, from student affairs to human resources, from public relations to facilities management.
Moreover, fulfilling our priorities will require significant changes and additions to the physical campus infrastructure, about one third of which dates back to the original campus construction. We must meet the changing requirements of teaching and research space; the expectations of today's students for residence halls and student life spaces that build community; the need for adequate and appropriate administrative space; and the formidable need for sustainability in the face of today's environmental stresses.
---
Conclusion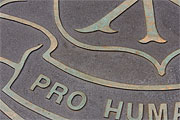 Wake Forest has built for itself a strong niche in higher education, using resources wisely, setting ambitious goals, and being faithful to the principles of excellent education. It is a place where relationships are central; where there is a genteel but deeply-felt egalitarianism; where faculty members truly care about their students; where doing good and doing well are valued outcomes of the Wake Forest experience; where the power of mind and conscience is honored in word — in our motto — and in deed.
Because of Wake Forest's singular place in higher education — consistently in the top tier of major universities in this country — we face daunting competition in virtually every domain: student and faculty recruitment; faculty and staff retention; campus facilities; and our overall endowment level. We are at risk if we take no action. Our model, the most personal and, therefore, resource intensive in higher education, will be sustained only if we are proactive about our choices. Bold action is essential to the preservation of Wake Forest's most enduring principles and to the vision of extending them to future generations of students and faculty.
Over the years, Wake Forest has taken big risks — moving to Winston-Salem from our native campus; establishing our professional schools; joining the Atlantic Coast Conference; changing our relationship with the Baptist Convention of North Carolina; and becoming a major economic force in our "new" hometown. Across the decades, Wake Forest's leaders have understood a counterintuitive truth: change is often necessary to preserve what we value most. As we launch our strategic plan, risks and rewards will be carefully evaluated at every juncture to preserve what is best about the University as we move forward. We are called to this mission, and we accept the challenges that lie ahead.
In sum, our goal is to sustain and enhance Wake Forest's finest tradition: a face-to-face community, grounded in the liberal arts, passionate about graduate and professional education, and committed to challenging and supporting students in living examined and purposeful lives. This is our heritage, our identity, and our greatest opportunity.